Black Collection
The time-honoured Black Collection comes in a few different styles. Whichever one you choose, it will be forever iconic.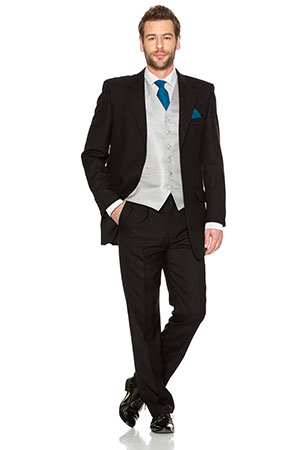 BLACK HERRINGBONE SHORT JACKET
Our beautiful Black Herringbone Short jacket is a super smart outfit that will never go out of fashion.
The Black Herringbone Short is available in sizes 34XS to 60XL.
£ 99
As a two piece suit only:
£ 70
With a shirt and tie:
£ 80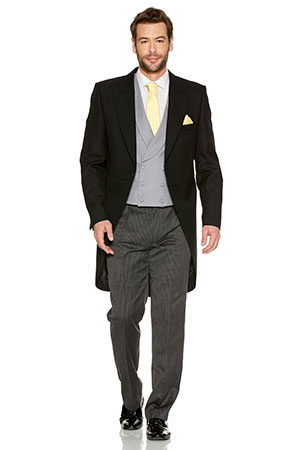 BLACK HERRINGBONE TAILCOAT
The traditional Tailcoat has long been a popular choice for grooms. The single-breasted jacket buttons in the centre, then curves away gradually to form two tails at the back.
This Tailcoat looks great with a Dove Grey Double Breasted waistcoat. To keep things time-honoured, wear it with Grey Stripe trousers.
Available in sizes 20XS to 60XL.
£ 103
"Classic Black" three piece package of Black jacket, striped trousers, and dove grey waistcoat
£ 85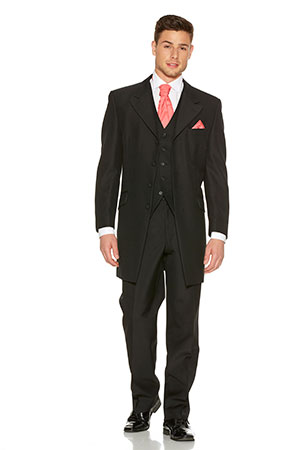 BLACK HERRINGBONE PRINCE EDWARD
The Prince Edward is an elegant, three-quarter-length jacket which is perfect for grooms who want a traditional suit that is somewhat less formal than the Tailcoat.
The refined Prince Edward is paired with matching trousers.
Available in sizes 20XS to 60XL.
£ 100